I recently moved from Huntington Beach, California to Irvine and now to Mission Viejo. This was all in the past 2 years. If you don't know, Huntington Beach is home to some the top sushi restaurants. It is surrounded by a large Japanese community; therefore, getting authentic Japanese restaurants.
Now that we call Mission Viejo home, we are in desperate need of finding our go to sushi bar. We bounce around from bar to bar, eating our way through as much sushi as we can afford. One cannot complain when you come across so many great places.
I had to give TruSushi 'n Fish a second go around before I allowed it in my repertoire of restaurants. Unfortunately, I sat outside, and to no fault of the restaurant, a bird decided to use my head for target practice. And from that moment on, I couldn't think about anything other than what I was cleaning out of my hair.
I couldn't let this place be judged solely on unwelcome nature flying around. I had to give it another try and was pleasantly happy that I did. TruSushi 'n Fish is now on my list of restaurants I can go to take care of my sushi fix.
Everything was fresh and very well made. The Ono Ono Roll was one worthy of a blog post. It is spicy tuna and shrimp tempura wrapped with escolar. This was a must try for me once I saw escolar. For those that don't know, escolar is often referred to as "white tuna". It's a buttery fish with a dreamy velvety texture. Good sushi bars tend to have escolar on that menu; so order it if you see it. Or order the Ono Ono Roll next time you visit TruSushi 'n Fish.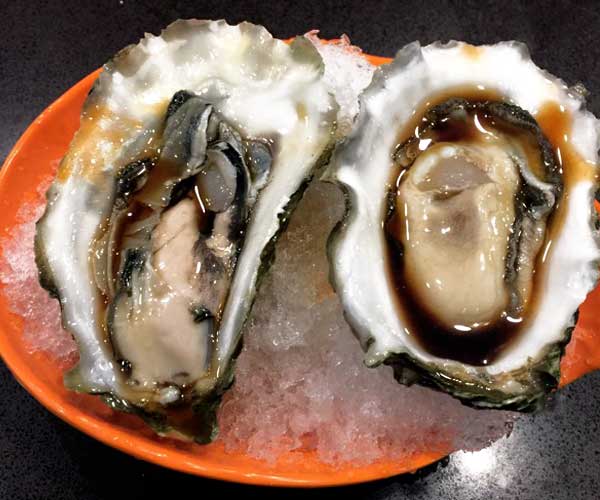 Another worthy item from my night; fresh oysters. I always try to top off my sushi with oysters on the half shell. Extremely fresh and great quality. I'll make sure I have room for more than just 2 the next time I go.
TruSushi 'n Fish
Beer & Sake Bar
23702 El Toro Rd Suite A
Lake Forest, CA 92630
www.trusushi.com
949.830.5458
Visit www.missionviejo.com if you would like to explore other great restaurants in Mission Viejo.