We look high and low for the perfect gift for our loved ones. Every year we try to come up with something a little cleverer and more unique then the last. It's that one person in your life that has everything and needs nothing.
That foodie in your life possibly has every kitchen gadget that you can think of and you don't want to come across thoughtless and give a restaurant gift card, so now what?
Here it is, the show stopper gift of the year. This will be the gift that everyone will talk about and enjoy for months. And if you are a foodie like me, you will get to join in and reap the rewards of your gift.
A leg of prosciutto!
Yes! I just said a leg of prosciutto. We did a family trip to Spain a few years back. The one thing that I wanted to take home was a whole leg of prosciutto. If only my husband said yes. I would have invited my friends over every week for a glass of wine and a charcuterie plate. I would have pulled the leg out and sliced it on display like you imagine people doing with their Thanksgiving turkey.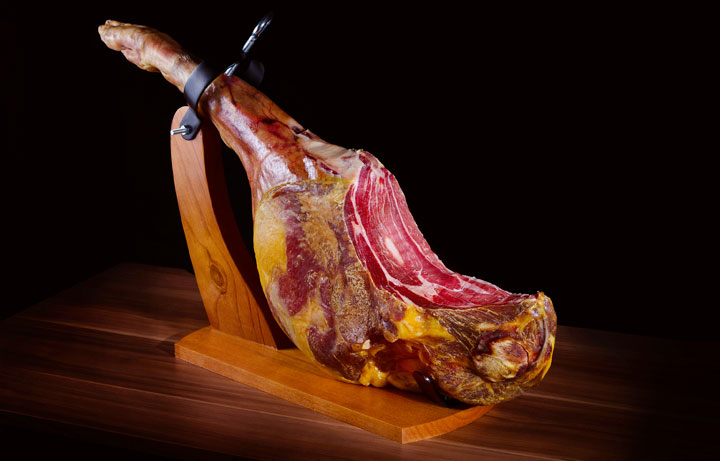 You don't have to travel to Spain or Italy for this perfect gift. You're also not going to have to fight the lines at the mall or deal with the crazy parking lots. Just start planning now and order online.
A leg of prosciutto can range from $75 to $700. You decide how much you want to spend. You decide if you want to go fancy and also order a stand to showcase this beautiful leg. A whole leg can sit wrapped on your kitchen counter for a few months (if you don't eat it before then).
Order a leg for that foodie in your life. I would probably buy another gadget for the non-foodies. I'm sure they love to eat prosciutto but they might be a little intimidated slicing their own leg.
What? You don't think your friend can get through a whole leg. Here are just a few things you can doing with prosciutto.
Slice prosciutto and add it to a charcuterie plate
Wrapped asparagus with cream cheese and Prosciutto
Top your pizza Prosciutto and Arugula
Fry the prosciutto and sprinkle on salads
Replace your bacon with prosciutto at breakfast
Make a sandwich with prosciutto and mozzarella
Add prosciutto to your Caprese salad
These are just simple ideas. There are hundreds of recipes out there that call for prosciutto. I will come back and add links whenever I post a recipe using prosciutto.
Here is one that I found on Amazon for $249.99. This one is from Spain and comes with a stand and knife. Just order and ship, and you are done!
Serrano Ham Bone in from Spain 15 - 17 lb + Ham Stand + Knife - Cured Spanish Jamon Made with NO Nitrates or Nitrites
A Little Bit of Spain In A Gift Box - Includes: Jamon Serrano Ham, Manchego Cheese, Murcia al Vino Cheese, Mahon Cheese, Spanish Olives, Chocolate Largueta Almonds, and Chorizo